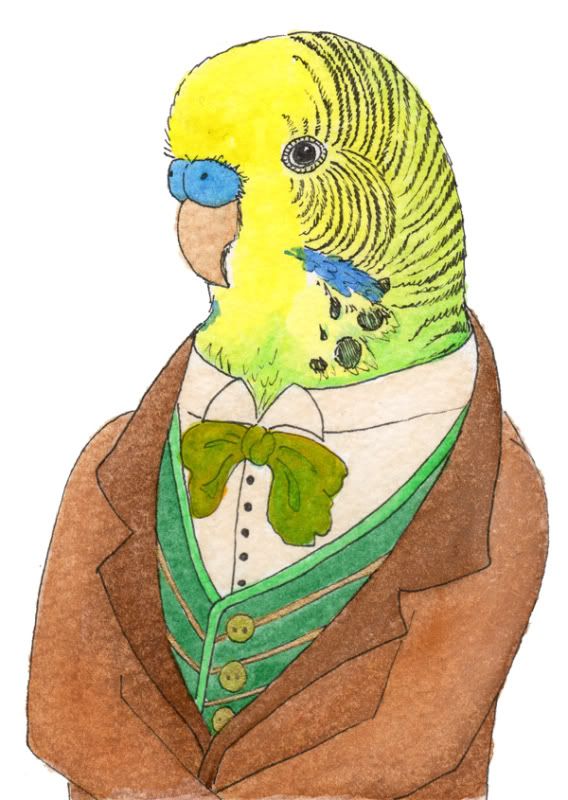 Jessica Bromley Bartram's budgie
I feel like my sister's childhood pet budgie, Bert, who used to escape his cage every now and then and go for joy-flights around the house until he was cajoled into returning to his perch and accepting his lot in life. I just got home from my first movie theatre date with my husband in two years.
If you haven't been reading my blog, then the choice of film (
The Adventures of Tintin
) will seem particularly confusing, but I assure you, it was thoroughly enjoyable for both of us. As mentioned
before
on this blog, my husband won me over by reading Tintin aloud to me on picnics in the park back when we were first living together. Back when that post was written I lamented the lack of a Tintin movie, and now I am happy to report that I loved Spielberg and Jackson's rendition; in my opinion they can lay claim to possibly the best opening credits ever.
Sure, the popcorn and the hand holding were nice, being downtown (and at night to boot) was exciting, and the movie itself was a humourous, tumultuous roller coaster ride, (at one point I remarked that I didn't care if both kids were awake and crying and being complete pains for Grandma - it was worth it), but honestly, it was the reassurance that I can indeed go out and everything will be (more or less) fine. I didn't miss the boys much, Grandma only had to put up with 15 minutes of baby tears, and I got a moonlit kiss (and what a moon it was tonight)!
Thursday's moon. Photo credit: Perry
The most uncomfortable part of the whole ordeal? Stepping into an elevator with two other couples after the movie and being the only one who couldn't/didn't/wouldn't whip out my iphone within two seconds of the doors closing. I know they were just checking their messages, the score of the Canucks' game, texting their babysitter, checking the weather, reviewing the movie on their blog, looking up the fastest route home - whatever, I don't care. But boy, did I feel a decade behind the times.
Fortunately, coming home to a crying baby put it all back in perspective. My night out ended slightly better than poor budgie Bert's last flight which ended when he flew into a wall. I was glad to be back home, in my cage, despite the baby tears; I know what matters and it isn't your newest app.